I am a goddess. Not just your normal whorship me kind, but a goddess in the kitchen. I have been cooking since I was a little girl and can remember all the times I was in the kitchen with my grandma on cold winter days baking cookies. Cooking and food is not just my passion, it's my life.
I am not a professional cook and would never claim to be. I am just your average stay at home mom that knows a thing or two when it comes to the kitchen. I'm here to share my various recpies, tips and tricks, as well as give advice to any who need it.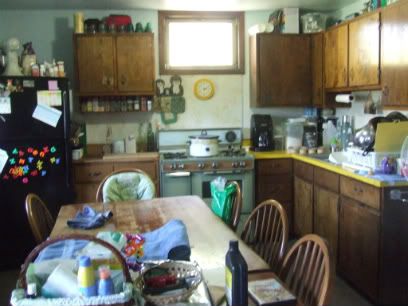 Above is my wonderfully small kitchen. It might be large to some of you but to me it's about half the size I'd like it to be. However the point is that my kitchen is my palate, the place I create masterpieces. It's no different from yours. It's the dumping ground in my house. It's where I scrapbook at times, where my husband throws his stuff when he gets home, where I change my daughters diapers until our house is finished being built, which by the way, I will have a huge kitchen in! You don't need anything special to make delicious meals for your family.
Now a days, I spend most of my time taking care of my beautiful 9 month old little girl and trying out new recipes.