I have a great love for Mexican food. The spiciness, the creaminess of the cheese and the crunch of tortillas are the best things in the world. I've been on a Tex-Mex kick lately and while my poor husband's acid reflux is kicking his butt, he never complains because he loves it too. One of my favorite dishes is Chicken and Cheese Enchilada's. It's been months since I've made them. Mostly because I hate turning my oven on during the hot days of summer, but now that the weather has shifted here and it hasn't hit 70 degrees in a few days, I thought it would be the perfect night for some spicy, cheesy goodness.
Chicken & Cheese Enchiladas
The Ingredients:
1lb boneless skinless chicken breast
1tbs cumin
1tbs garlic
1/2 red pepper flakes
1 (10 oz) can Enchilada sauce (or make your own)
8 10in flour tortilla
1lb shredded Colby Jack or cheddar cheese (reserve 1 cup of cheese for top)
Pinch of salt
Few grinds of black pepper
Water or chicken stock
Directions
:
Dice your chicken into smaller then bite sized pieces. Place in a pot over med-high heat which a touch of veg oil. Make sure to put chicken in a single layer and do not stir it until the chicken has browned.
Once the chicken is no longer pink add in your spices and give a stir to coat the chicken. Add in the sauce and 1/2 can of water or chicken stock. Bring to a boil, then reduce heat and simmer for 5 mins.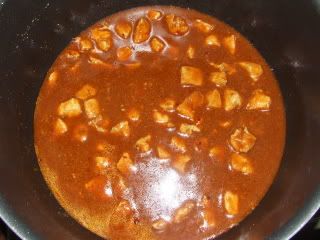 Now there are two ways you can do this. The quick way, and the longer but tastier way. I almost always do the longer way because I feel the end result is so much tastier but when you don't have time the quick way is pretty good too.
Quick Way: Coat your tortilla's by dipping them into the cooled sauce and chicken mixture, letting the excess drip off. Then continue onto stuff and folding below.
Longer Better Way: Coat your tortilla's by dipping them into the cooled sauce and chicken mixture, letting the excess drip off. Then in a skillet over high heat with a touch of oil, fry the sauced tortilla, flipping once or twice, until air bubbles start to form and the sauce is "cooked" into the tortilla. One cooked set aside on a plate. Continue with the rest of the tortilla, adding more oil when necessary.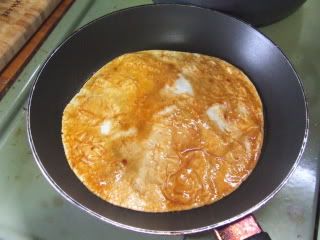 Now comes stuffing and folding! Simply add a little bit of the chicken mixture to the middle of your tortilla, top with some cheese and fold over. I do this step right inside the 11x9 baking dish that I cook them in. The tortilla will be soft and prone to tearing so be careful. After folding push it up against the dish or the other enchilada's you've done to keep them tight and get all 8 in there. Make sure that you use all the chicken but use a slotted spoon so that some of sauce stays behind.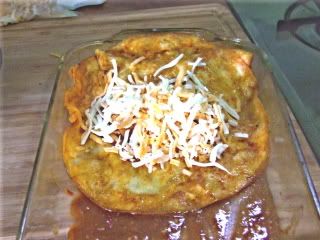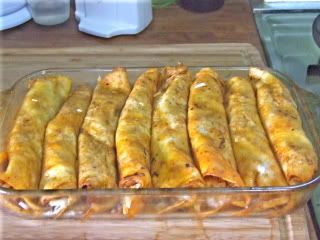 Once all the enchiladas are done, spread the reaming sauce on top and cover with reserved cheese. Bake in a preheated 350 oven for about 30mins or until cheese has melted and everything is heated though.
Serve with Mexican Rice and Cilantro Lime Corn (keep reading for recipes).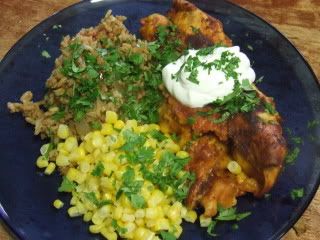 To make it look just as pretty as the picture above, you just place a dollop of sour cream on top of the enchilada's and sprinkle with some freshly chopped cilantro.
Ingredients:
1 c long grain rice
1/2 c water
2 tbs olive oil
1 tsp cumin
1 lrg garlic clove, minced
1 tsp salt
1-2 large tomatoes or a few smaller ones
1 small onion, chopped
2 c chicken or veggie stock
Heat oil in a large skillet. Add rice and cook until it starts to brown.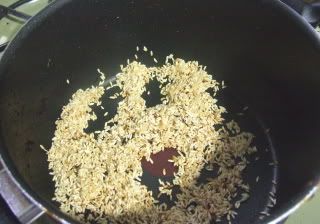 Meanwhile, slice tomatoes in half and squeeze over a bowl to remove seeds and pulp, then chop.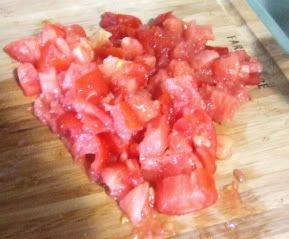 Reduce heat and add in spices, tomatoes, onion, 1/2 water and garlic. Simmer for a few mins.
Add the stock, cover, and simmer for about 20 mins or until the liquid is absorbed by the rice. Take off the heat and keep covered until you're ready for it.
Ingredients
:
1/2 bag of frozen corn or 1 can of corn
zest of 1/2 a lime
juice of 1 lime
1/4 c water
1tbs chopped cilantro
In a small pot place fozen corn and the rest ofthe ingredients over meat heat. Cook until heated through. If you using canned corn, drain and rinse before using.